What Is Van Stone?
Introduction
A lot of Chemical Processing customers use  Van Stone PTFE lined piping systems with ASME 150  rotating flanges,  both carbon steel and stainless steel lined piping systems are available.
The process of manufacturing a PTFE lined pipe spool with both flanges rotating without the use of conventionally welded or screw threaded collars is known as the "Conrac" or more properly the "Van Stone" system. The process essentially forms a lap collar by spinning over the parent tube at right angles to the original tube axis.
The use of the term "Conrac" which is the most widely recognised name for this process, is derived from the name of the machinery manufacturer who did much to develop the special machinery and promote the use of this flanging system.  The "Conrac Corporation of California". This range of pipe forming machines is now incorporated within the PHI-Tulip Company.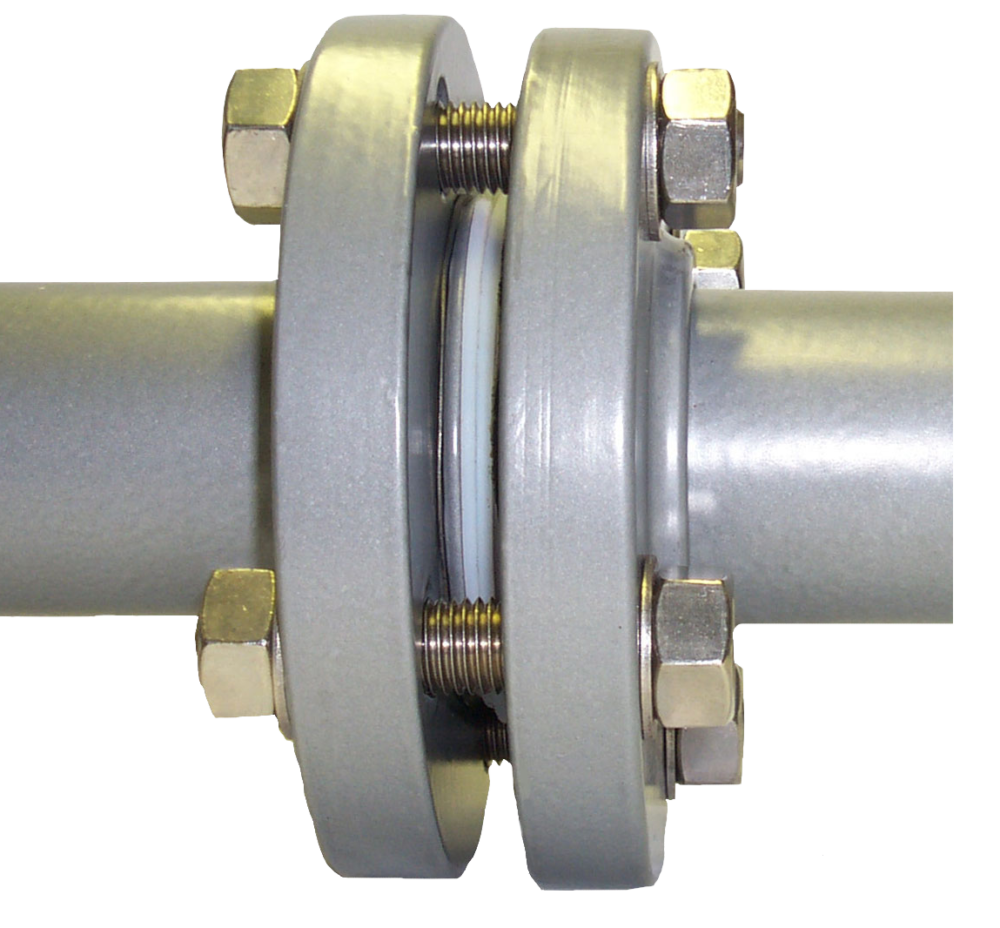 Product Development
The development of this process was born of a need to make the manufacture of pipework cheaper, easier and technically superior.
Traditionally pipework sections had been joined by fitting screwed flanges and to use a taper pipe thread, which would lock and form a seal. The steel tubes used for screw threading were very heavy and therefore expensive, the screwed flanges were also costly, prone to leakage and corrosion. The use of all welded systems was an improvement but for pre fabricated sections the quality of set up especially of flange squareness and bolt hole alignment was critical. If the preparation of the flanges and pipe set up was not done correctly it was often necessary to adapt the system to make it fit or even remake it complete adding time and costs. The twin needs of lower cost and ease of fabrication whilst maintaining piping integrity drove the development of the tafted lap collar.
The original developments were mostly in the use of thin wall expensive exotic metals where welding was at best unreliable and often impossible. The process was then taken up for pre-fabricated sections of marine pipework where being able to fit rotating flanges to relatively light wall piping had a marked effect on speed of build, overall weight and costs.
From the very early days of PTFE lined pipe systems the use of Van Stone flanged pipe spools was adopted as the preferred method of flanging and remains the favored choice of most international lined pipe manufacturers and users alike.
Product Testing
To improve the overall quality and cost effectiveness of CRP lined pipe systems, CRP purchased our first Conrac machine in November 1995 and began to develop the skills and disciplines required for this type of flanging method. In the months between CRP acquiring the machine and product coming to the market place in mid 1996 a large number of tests were made. We soon purchased our second machine and now can produce PTFE lined pipe spools from 1/2″NB up to 8″NB. These flange raised faces are rapidly produced and we can pass these cost savings on to our customers.
Physical Testing
Sample pipe spools were manufactured and then subjected to the extended steam and cold water cycle qualification tests demanded in ASTM F423. They were also tested for vacuum and heat ageing performance as well as the usual hydrostatic and electrostatic tests; all samples passed without incident. To assess the joint integrity suitably flanged spools were pressure tested to levels of 942 PSI without any failure being observed. This pressure is substantially in excess of the 754 PSI maximum pressure test permitted on ASME class 300 and over twice the test level for class 150.
Metallurgical Examination
Many prospective users of the Van Stone system are concerned about the effects of the forming process on the metallurgical structure of the resulting pipe collar which could cause a failure in service, in short the disrupted metal would be embrittled, crack and fall off. CRP sought advice on the type, grade and condition of tubes which could be subjected to the Van Stone  flanging method. We were advised that fully normalized tube to API 5L Grade B or ASTM A333 grade 6 would be satisfactory having the necessary ductility and yet still retaining all the other mechanical attributes required for PTFE lined pipe work. To verify this material selection CRP prepared a number of flanges and commissioned an approved metallurgical test house to conduct an examination of the critical flange radii to determine if the flanging process had significantly changed the metallic structure and properties. The laboratory reported only minor changes in hardness which in their considered opinion were not a cause for concern.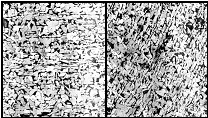 Microstructure of pipe wall and swaged flange.
Product Advantages
Accuracy
Because the collar is mechanically formed, it is square and flat which helps produce very sound joints.
Transition Radius
Forming produces a smooth transition radius between the bore and the collar face. This gives the best surface for the minimization stress in the PTFE flare.
Assembly
With two rotating flanges site assembly is easy enabling bolt holes to be lined up.
Cost
Moreover, the use of low cost rotating flanges on pipe spool reduces the need to order pipe fittings with rotating flanges. This in turn means that less expensive fixed flange cast fittings can be specified more often. The piping system is in its own right less expensive than a conventionally welded system.
Corrosion
The bolts required are much shorter giving much less shank exposed to gather dirt and get corroded.
Dimensions
Van Stone spools are available in sizes up to 8 inch nominal bore. This is a machine size limitation rather than a process suitability issue.
Earth Continuity
CRP has developed the "spikey" as a robust and simple method of achieving earth continuity on rotating flanges.  This earth continuity washer has been designed especially to suit the Van Stone piping system.  For further information click here.