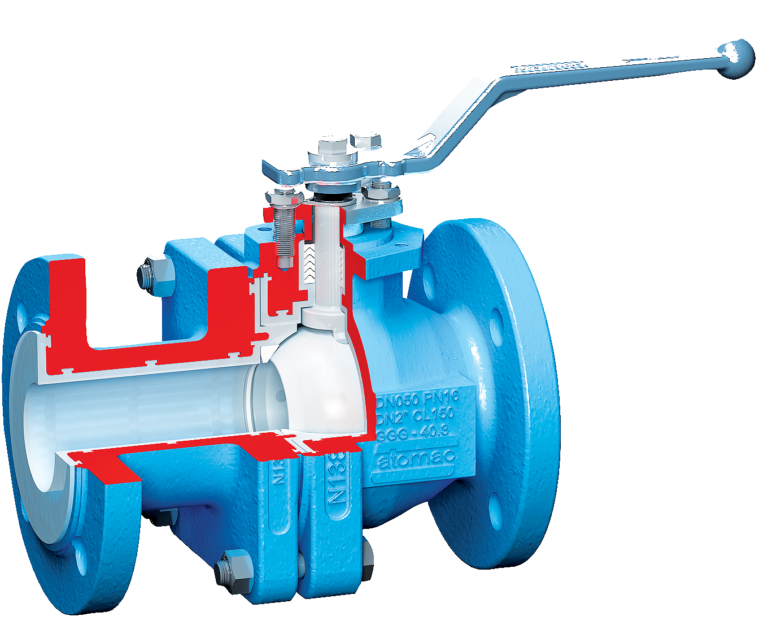 Ball Valves
It was in 1982 that CRP introduced the Atomac range of PFA lined valves into the United Kingdom market, and they are now distributed across the world, including the United States. Ever since then we have continued stocking and supplying this increasing range of fluoropolymer lined valves, sight glasses and ancillaries.
Now part of the Flowserve Group, the Atomac sub-division goes from strength to strength being the market leader in PFA lined valves and trusted to be the Site Standard in many world class chemical and pharmaceutical processing companies.
An extensive range of ball valves is available in design choice, and also in size. The largest valve is 24"NB. All the valves are flanged to suit either ASME or DIN specifications.
The AKH2 is the mainstay valve being full bore, long pattern, the AKH3 is only available in ASME 150 and is a reduced bore, short pattern. The AKH2A range is limited in its size up to 6"NB ASME 150, however it is very popular due to being a low cost alternative with a full bore in a short pattern design.
The valve range encompasses several unique features depending on product, like T-slots to lock the PFA liner in place, chevron packing to reduce emissions, metal to metal body seals for robustness inline, cavity filled seats to reduce product hold up, floating ball design to lower cost of actuation etc.