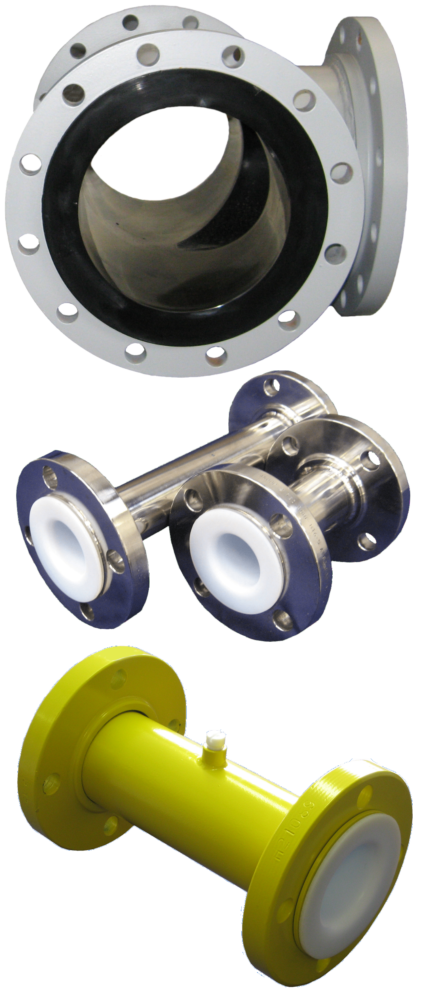 Product Upgrades
CRP HiPerFlon PFA and PTFE lined carbon steel piping are supplied extensively into many Chemical and Pharmaceutical plants providing long and trouble free service life as our standard offering. However, there are certain more demanding processes where we offer higher specifications of piping to suit.
Static dissipating / anti-static PTFE / PFA lined piping
This allows electrical charge which could build up on the inside bores to safely discharge through the liner to the external steelwork and earth. Highly recommend where flammable liquids are flowing through the piping.
This has several advantages over painted carbon steel. The piping does not require painting which, depending on the location of the installation, could provide a lot of ongoing maintenance savings. The stainless steel is inherently corrosion resistant and ideal for marine and coastal environments. If there are any concerns about external paint chips entering and contaminating the process between changeover of plant these too can be eliminated by specifying PTFE lined stainless steel piping.
High performance venting systems
These are recommended when piping is carrying permeable processes like Hydrochloric Acid, we supply piping with our UHP venting system aimed at reducing external corrosion of the metal around the vent holes.
UHP – Ultra High Performance piping
We offer this superior piping system for highly permeable processes, which provides an all-encompassing approach incorporating several elements together to provide the very best solution for Chlorine, Chlorinated chemicals, Nitric and Hydrochloric Acids for example.