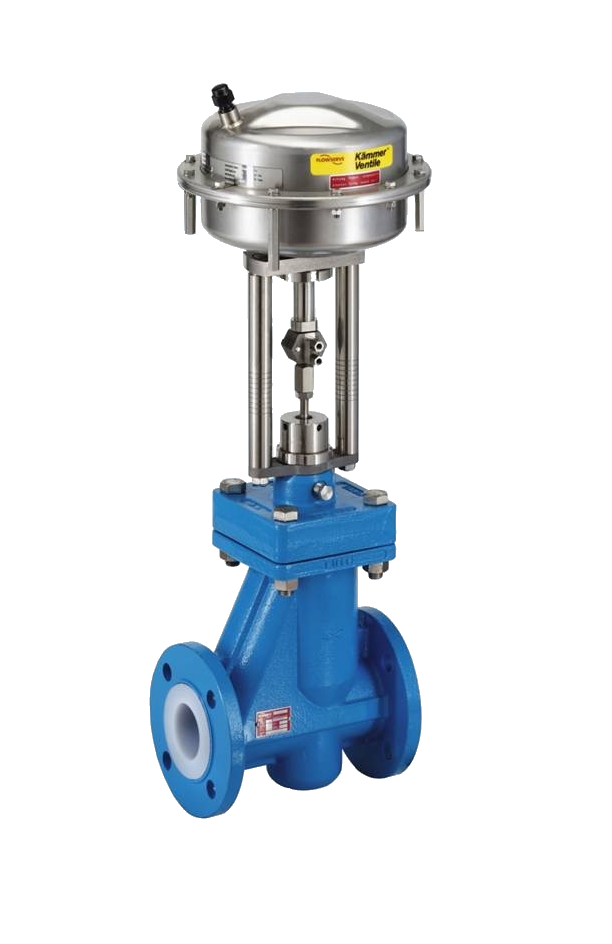 Kammer Control Valves
Control valves are used to accurately and precisely throttle the flow of gas or liquid in a pipeline, as part of a larger control system to maintain a desired characteristic. This could be a set temperature, an ideal product mix ratio, or a necessary pressure level. Control valves are operated by a pneumatic actuator, which in turn is controlled by a feedback loop such as a simple pressure or temperature transponder.
At CRP, we supply the Kammer control valve, which has a thick walled, PFA lined body to best prevent corrosion. The lining of the valves is completed in the same facility as the Atomac ball valves in Ahaus, Germany, where a great heritage has been built through the utilisation of the latest high quality fluoropolymer moulding processes. These valves can also be supplied in a static dissipating PFA lining, for those applications where there may be a concern of static build up within the valves.
While each control valve process application might usually have a minimum and maximum flow requirement, Kammer control valves provide a wide selection of 'trims' to provide the required flow control. The right flow characteristics can be achieved with a careful selection of the right port and spindle design. Several different trims are available for each valve size.
The kammer control valve's operation is linear, and is based on the globe valve principle, in which the stem is lifted or lowered into the seat to allow more or less flow.
Specially designed and modified PTFE bellows are used to seal the stem, and is TA-Luft certified – ISO 15848 part 1 / Class B-C. All bellows seals are tested at approximately 250°F to 87 PSI to prove integrity.
The range of valve sizes starts at ½"NB up to 6"NB and is available with ASME 150 or DIN PN10/16 flanges.  Machined 'T' slots within the body anchor the lining to the casting, making it suitable for use from full vacuum to 232 PSI whilst the temperature range is -20 to + 392°F. (Please consult the temperature / pressure chart for more info).
Although each valve is specially manufactured to order, Kammer keep extensive stocks of component parts at their facility in Essen, Germany, enabling us to still offer short delivery times.